Calla Co.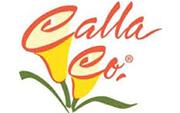 Consultants, Agencies, Brokers & Freelancers
Employer Summary
Welcome to Calla Co...

With over 80 years of experience of breeding and production by our parent company, Golden State Bulb Growers, we are the recognized leader in fresh cut calla lilies. We offer a rainbow of different colored calla lilies from our exclusive Callafornia Callas breeding program. In addition to calla lilies, we are also experts in growing amaryllis, eucomis, narcissus, ornithogalum conicum and scilla peruviana.

We produce tens of millions of flower bulbs and cut flowers on over 1,000 acres in California's central coast. Today we are proud to be the largest grower of callas in the United States and market Callafornia Cut Callas throughout the U.S., Canada and Mexico.

Located on the beautiful Central Coast of California, our head office and much of our production are very near Monterey Bay.

We have an international staff of committed and well-educated individuals. Our efforts are enhanced by a: PhD Cytologist, varying Masters degrees in Soil Science, Pathology, Plant Breeding and Entomology as well as several undergraduate degrees in Horticulture, Biology and other subjects.

Management at Golden State Bulb Growers is extremely stable and there is virtually no management personnel turnover.

Amongst the many benefits of working for our forth generation family owned company, we offer continuing education opportunities to our work force of between 180 and 350 people seasonally.