Since our inception in 1989, Pacific International Marketing (Pacific) has been providing the nation with the finest fresh vegetables and fruit that nature has to offer. We take pride in being one of the industry's leading produce companies. We are involved in the growing, packing, shipping and processing of all our commodities. We offer a complete line of conventional and organic produce, including value-added products and custom blend organic spring mix. We have multiple growing regions, selected for their productive climate and rich soil, to ensure our customers a year-round supply of the finest product. Pacific ships over 20 million packages per year from the Western United States and Mexico.
Pacific International Marketing is the marketing arm for our other companies; Dynasty Farms, Inc. and Pure Pacific Organics, LLC. Dynasty Farms is a fully integrated farming company controlling every aspect of the growing process from ground preparation, planting, harvesting, and trucking, to cooling and shipping.  
Founded in the early 1980s, Dynasty Farms oversees more than 20,000 acres of conventional produce. The company farms vegetables in the Salinas, Santa Maria, Coachella, Imperial, and San Joaquin Valleys, and the Oxnard area of California. In Arizona we produce a variety of product from the Salt River Valley surrounding the Phoenix metropolitan area, and the Yuma Valley near the Mexican border.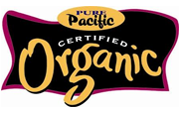 Pure Pacific Organics, like Dynasty, oversees every step in the production process for our organic produce. It was founded in the 1990s and farms approximately 5,000 acres of certified organic land in California, Arizona, and Mexico. All of our organic produce is grown on ground that is USDA certified in accordance with the National Organic Program of the U.S. Department of Agriculture (NOP/USDA). All our ranches and facilities engaged in processing, cooling or storing are annually inspected and certified by California Certified Organic Farmers (CCOF) or other USDA accredited certifying agents.
Pacific understands that the quality of the produce and the success of the company stems from the hard work and dedication of our people. That is why we continue today, as we always have, as an employee-owned company. This means, virtually all the key sales people and management personnel are also owners of Pacific and are eager to work with you to promptly address your concerns or requests.